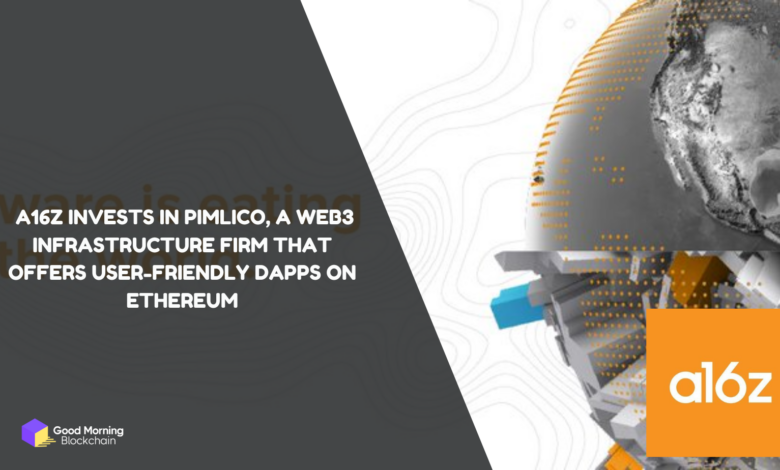 Pimlico, a UK-based web3 infrastructure firm, has raised $4.2 million in a seed funding round led by a16z crypto, the crypto venture arm of Andreessen Horowitz.
The company announced the news on Monday, saying that it plans to use the funds to expand its operations and team.
Pimlico is currently building the infrastructure for developers to make more user-friendly decentralized applications on Ethereum.
The company leverages ERC-4337, a token standard that allows for account abstraction, which means that users can have more control and flexibility over their accounts and transactions on the network.
Pimlico makes crypto UX simpler and easier by offering services like gas fee sponsorship, payment with ERC-20 tokens, social recovery schemes, batched transactions, spending limits, and different account access levels
According to Pimlico, account abstraction enables features such as email recovery, social logins, gas fee sponsorship, gas payments with ERC-20 tokens, better account recovery, spending thresholds, FaceID or passkey verification, and more.
These features are expected to improve the user experience and adoption of dApps, as well as reduce the complexity and cost of development.
Pimlico's founder and CEO, Kristof Gazso, said that the company's mission is to "augment Ethereum through smart accounts" and to "make Ethereum easier to use and add more ways to execute transactions on the network."
Pimlico is one of the first investments made by a16z crypto from its London office, which opened in September this year.
The office is led by Krishnan, who focuses on investing in web3 startups in the UK and Europe.
Pimlico is also one of the graduates of the Crypto Startup School, a program run by a16z crypto that provides education and mentorship to aspiring crypto entrepreneurs.
Pimlico raised $4.2 million in a seed funding round led by a16z crypto, with participation from other investors, such as David Hoffman and Ryan Sean Adams from Bankless, Sandy Peng from Scroll, and LedgerStatus from UpOnly.