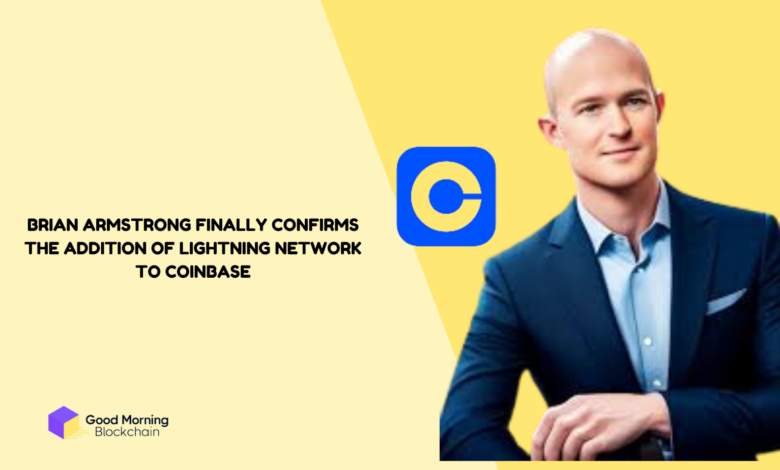 Coinbase CEO Brian Armstrong has confirmed that the Lightning Network will soon be integrated into the Coinbase platform, a much-anticipated announcement.
This decision is a major milestone for the popular cryptocurrency exchange and the broader crypto community.
The Lightning Network is a second-layer solution that helps solve Bitcoin's problem of being slow and expensive by allowing for faster and cheaper transactions.
With the Lightning Network, Coinbase users can send and receive Bitcoin almost instantly and with minimal fees, making microtransactions and everyday use of cryptocurrency more feasible.
Armstrong's confirmation that Coinbase could utilize the Lightning Network in the near future comes after months of speculation and hints from the company. 
Specifically, the initial tweet where he initially made a statement dated back to early August, in which it read:
Following these announcements, this move is seen as a strategic one because it aligns with Coinbase's commitment to improving user experience and expanding the use of cryptocurrencies.
Quoting Jack Dorsey's response to the announcement…
The integration will bring several positive advantages to Coinbase users. 
First and foremost, it will significantly enhance transaction speed.
Currently, Bitcoin transactions can take several minutes to confirm and fees can get ridiculously high, but with the Lightning Network, this process can happen almost instantaneously.
Moreover, the network's low fees will make small Bitcoin transactions practical.
This is a game-changer for various use cases, such as buying coffee or tipping content creators, where high fees can be prohibitive.
And, while no specific timeline has been provided for the Lightning Network's integration, Coinbase has a history of meticulous planning and implementation.
At the moment, users can sign up for the beta test of the network before it is rolled out to the public in early 2024.