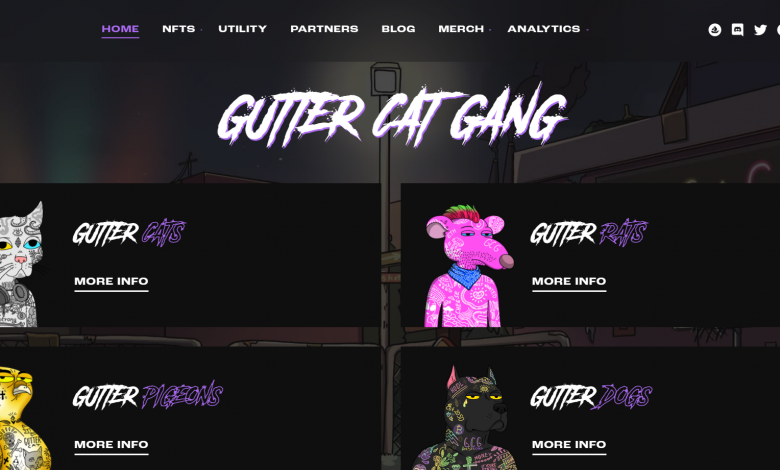 Gutter Cat Gang NFT is not your ordinary NFT collection. In the past few months since its initial launch, it skyrocketed in popularity. You can see people from all social media platforms, like Facebook, jump in owning these cool-looking dogs, rats, pigeons, and cats (of the gutter species).
So what makes this non-fungible token naturally interesting, and an essential, worthy investment in the world of crypto assets? The gmBlockchain team is here to find that out.
About Gutter Cat Gang NFT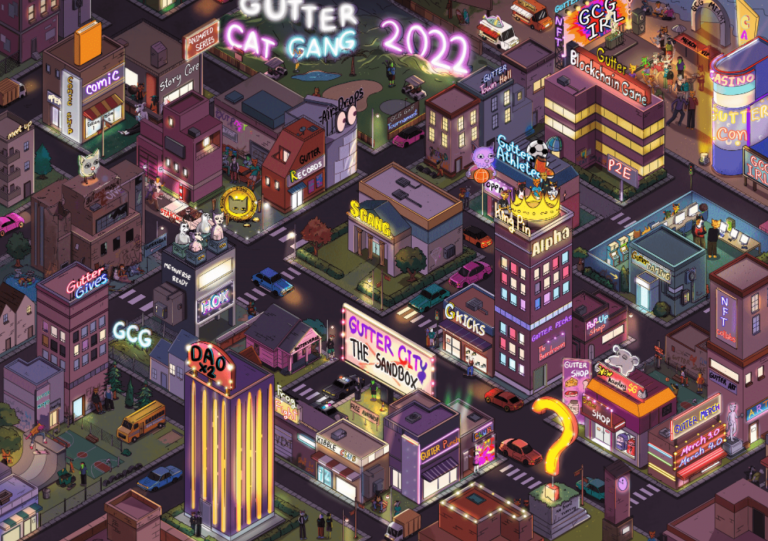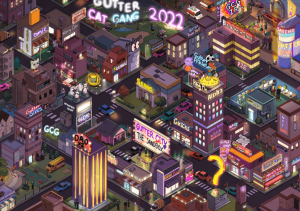 As one of the fastest-growing NFT projects in the market, the Gutter Cat Gang features a lot of real-life or mainstream hip-hop culture influence translated into a hip cartoonish animation style.
The website further describes the Gutter Cat collection in this brief profile:
"The year is 2050. Humans are an interplanetary species and have all but abandoned the post-apocalyptic shatters of society on earth. Cats have taken over. One crime-ridden, nondescript inner city is inhabited by a group of cats collectively known as the Gutter Cats. This is their story."
The collection features various artists on the rise supported by a strong community of owners.
Gutter Cat Gang NFT Roadmap
A Roadmap was released by the end of 2021 showing in full detail Gutter Cat Gang's plans for the direction of the NFT project. A visual representation of the roadmap revealed these points in the 2023 pipeline:
GCG IRL
Gutter Blockchain Game (Play-to-earn)
"$Gang" (utility token)
Records (possibly music deals)
Comic Shop
Animated series (as part of developing its story core)
Gutter City Sandbox
"GKickcs"
Gutter Merch (3.0 and 4.0)
"Gutter Gives" (possible tie-in with charitable organizations)
Airdrops
Metaverse-ready "HOK"
"Dao x 2″
"Kibble Club"
"King Pin" Alpha/The Boardroom/Gutter Picks (possible exclusive alpha channels on Discord)Little is still known about these plans, but you can expect more announcements to the NFT community through news and updates made via its Twitter, Discord, and official blog.
Gutter Cat Gang Utility
The Gutter Gang has discussed in full detail the membership perks and utility that each holder would get when they own a Gutter non-fungible.
As quoted from the website, "Your NFT doubles as your membership token to the Gutter Cat Gang. Gutter Rats, Gutter Pigeons, and Gutter Dogs represent the Gang's base level membership, Gutter Cats represent the Gang's premier level of membership, and each Gutter NFT unlocks varying and unique levels of community-led access and perks."
Here are the key areas that the co-founder and their team focus on:
DAO
Events
Metaverse projects
Airdrops
Merch
Collaborations
NFTs
Community
Multimedia
Charity
The Creators of Gutter Cat Gang
4 key members comprise the Gutter Cat Gang team. Gutter Cats is founded by "Mitch," "Ric," and "Gutter Dan," who refer to themselves as the Head Honcho, except for "Karlee" referred to as the "Gutter Queen." They have further experience in blockchain technology, web 3.0, and the NFT space.
When to Mint Gutter Cat Gang NFT?
There's a supply of at least 3,000 Gutter Cat tokens in the NFT marketplace. At present, you can get them on various platforms. As of now, the Gutter Cats are available at OpenSea, LooksRare, Rarity, and Analytics, which gives users exclusive perks such as OG membership and premium utility. In OpenSea alone, an avatar may fetch at least ETH 200 or US$700,000 when converted.
Where to Buy Gutter Cat Gang?
You can purchase Gutter Cat Gang from OpenSea. There are about 3,000 items on its page with almost 1,800 owners. Its floor price is ETH 7.13 or US$25,000 when converted. Make sure to own a digital wallet to hold your tokens such as MetaMask or Coinbase.
gmBlockchain's Thoughts
We're all for what this collection is offering. Apart from dope art, and endless cool perks, the team behind GCG has found ways to make its system sustainable, which will bode well for them in the future. Check out more about Gutter Cat Gang NFT from its official site.