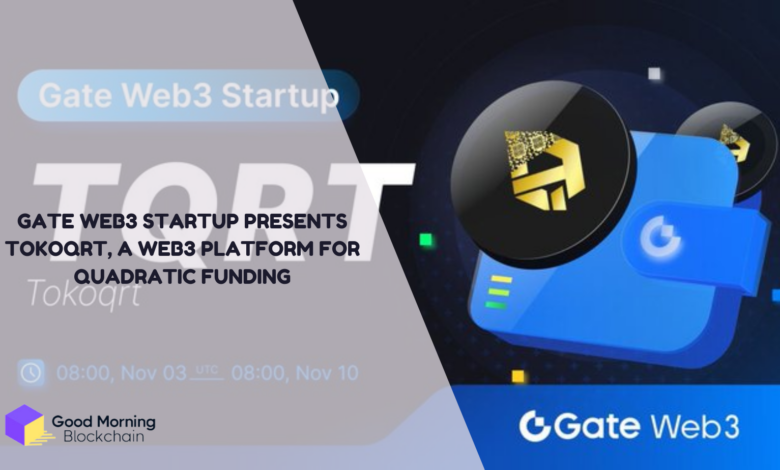 In another move to support its ever-expanding community, Gate has announced another series of airdrops, to support its community.
The special airdrop will involve TokoQrt, a rising name in the blockchain space, and start on November 3rd, 2023, at 08:00 (UTC) and end on November 10th, 2023, at 08:00 (UTC).
TokoQrt is a platform that aims to redefine how users and developers interact within the decentralized web. It integrates cutting-edge blockchain technologies and offers unique solutions for web3 enthusiasts.
It is led by a team of experienced blockchain developers and strategists who seek to usher in a new age of decentralized applications and solutions.
To participate in the airdrop, start by connecting to the Gate Web3 Wallet, a self-custody crypto wallet app that enables easy access to web3 services.
Also, you'll need to ensure that the total value of EVM-chain assets in your web3 wallet exceeds $100 USD equivalent.
Once this criterion is met, users can join the airdrop without any cost and receive free TokoQrt tokens.
The TokoQrt token (TKQ) is the native utility token of the platform. It is used for voting, staking, rewarding, and accessing premium services.
Currently, It has a fixed supply of 1 billion TKQ, and 10% of the supply is allocated for the airdrop.
The airdrop will distribute 100 million TKQ to 100,000 eligible users, each receiving 1,000 TKQ.
See also: Gate Web3 Startup Unveils Four Exciting Airdrops to Empower Its Growing Community
Gate Web3 Startup is a platform that offers free initial and non-initial airdrops from cutting-edge web3 projects.
It is part of the Gate Web3 ecosystem, which also includes the Gate Web3 Wallet, single/cross-chain swaps, perpetual futures, NFT marketplace, staking, DApps, and airdrop aggregators.
Previously, Gate Startup has had successful airdrops for projects such as Polkadot, Chainlink, Uniswap, and Aave.
For more information, please visit the official websites of Gate Web3 Startup and TokoQrt
Source: PR Newswire