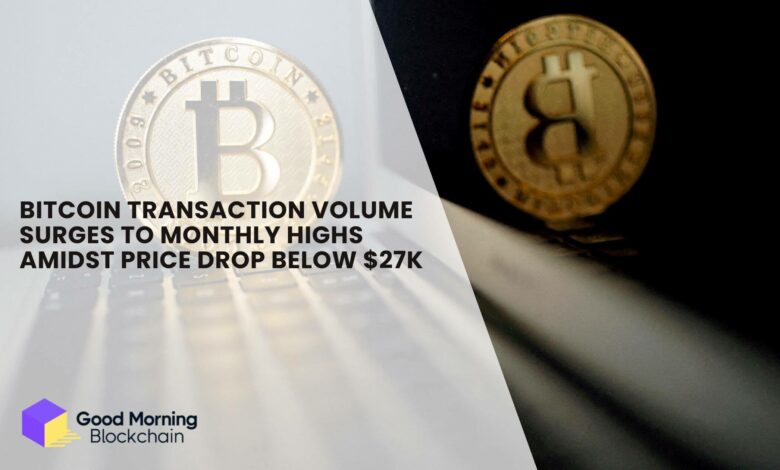 Bitcoin's mean transaction volume has reached a month-high of 2.051 BTC, coinciding with the recent price dip that saw the asset fall below $27,000. Glassnode, a leading on-chain analytics platform, highlighted this significant increase in transaction volume in a recent tweet.
The mean transaction volume, represented by the seven-day moving average, provides valuable insights into the overall transactional activity within the Bitcoin network. It reflects the average amount of BTC transacted over a seven-day period, indicating the level of economic participation in the ecosystem.
Glassnode reported that Bitcoin's transaction volume had been steadily declining since reaching a high of over 3.5 BTC in mid-April. The volume continued to drop until it fell below the 2 BTC mark on May 1.
The decline in transaction volume aligned with a general downtrend in Bitcoin's price. However, as the asset's price staged a comeback and halted its downward slope, transaction volume started to register an uptick. This sustained increase has pushed the transaction volume back above the 2 BTC mark.
It's important to note that while a surge in transaction volume may indicate increased market activity, it doesn't guarantee a direct impact on Bitcoin's price. However, higher transaction volume can contribute to increased liquidity as more Bitcoin is exchanged, potentially positively affecting market efficiency.
At the time of writing, BTC is trading at $26,871, showing a 0.89% decline in the past 24 hours. The asset has experienced three consecutive losing candles since May 29, following a notable 4.51% intraday gain on May 28 that reclaimed the $28,000 price level.
As the market continues to navigate these fluctuations, monitoring transaction volume provides insights into the underlying activity and dynamics within the Bitcoin network.