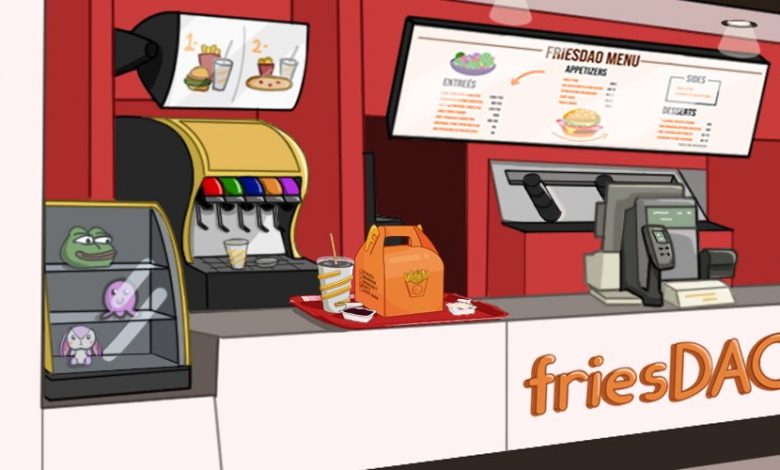 Who would have thought that FriesDAO, a crypto organization, would be fueled for their passion for owning their first store selling burgers and fries? It's just one of the most bizarre occurrences in the world of blockchains and crypto where everything can be owned and operated using digital coins.
There is plenty to discover about this latest crypto endeavor in the space as more people become creative in making real-world assets a part of digital finance. Join the gmBlockchain team as we survey this latest undertaking even further. Continue reading below to learn more about this unique community.
About FriesDAO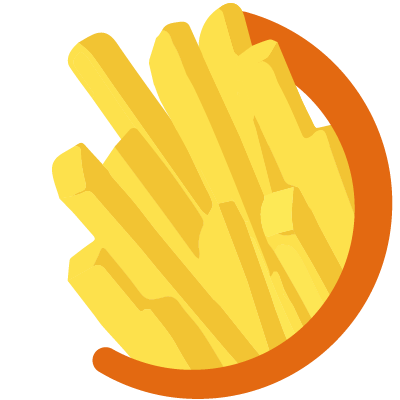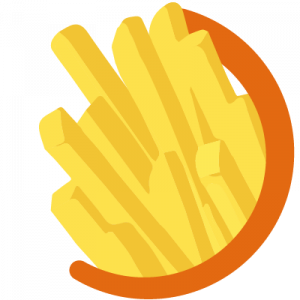 FriesDAO is a decentralized autonomous organization that started with a joke–using a DAO to buy McDonald's. However, this business idea was further developed and snowballed into an actual fund. Now, it involves thousands of people with a pooled fund of over US$5.4 million in $FRIES value.
Each Fries token represents the decision of every member of its community which aims to run burger joints and beloved food industry stores in the world through the collective effort and wisdom of the crowd. As a crypto project, the DAO has a treasury and has a detailed distribution of its deal transactions and assets further discussed in its official documents.
FriesDAO Purpose
FriesDAO was created with decentralized governance in mind. It envisions an ownership stake given to a larger group that believes and supports the DAO's vision.
Its game plan and purpose is as follows:
Buying franchises – It is a decentralized community with an exchange commission of USD$4.5 million to buy and finance fast-food chains worldwide.
Building connections – It plans to foster its relationships with crypto enthusiasts and restaurant owners with a realized goal of a better industry.
Enjoying perks – Allowing its members to enjoy NFT-enabled FRIESdao network stores' rewards while deciding on brands to franchise.
Creating value – each purchase of a fries chain using a token means higher money value IRL. The decision-making process serves as the foundation for the DeFi sector.
FriesDAO Goals
These goals are enumerated into the following action plans:
Form a treasury
The organization will gather contributions based on the Ethereum blockchain technology from its community. It shall be distributed and called FriesDAO governance tokens.
Acquire franchises
The org will negotiate with fast-food franchises to buy real-world asset store brands such as Burger King, Domino's Pizza, and McDonald's using its community treasury.
Continuous empire expansion
FriesDAO wants itself to make a duplicable framework based on community governance to improve and expand stores in the real world.
Forming the Utility
Enabling the community to participate in serious discussions like prioritizing future job growth for its members while also having NFT free food coupons.
FriesDAO Progress
The fast-food restaurants-centric DAO has released its roadmap in the form of a menu which is posted on its official documents page. The FriesDAO menu consists of the following: entrees, appetizers, sides, and desserts. These events are categorized according to priority with most of their foundational elements already completed such as:
Legal structure
identification of fast food franchise options
first DAO proposal
The first fast-food franchise acquisition is set to be completed in mid-June while the deployment of the DAO operation system is scheduled for July of 2022. The DAO has also started raising funds and launched the token earlier in 2022.
About FriesDAO Shareholders and Community
As the fast-food industry-oriented DAO is a niche market, the organization holds a smaller following in terms of membership. The decentralized community has around 3,725 followers on its official Twitter page and about 4,737 members on its official Discord server. However, the token holders and interested parties are constantly joining in support of the fast-food restaurant DAO's cause.
Founders of FriesDAO
FriesDAO is founded by a group of people from crypto community members from various backgrounds. There are 7 initial organizing advisors in the team. Leading the pack is Brett Beller, Co-founder of Drizly and a founder of several startups. The other advisors include Bill Lee, Kory Spiroff, "Slippery Grease," Olivier Meyer, Rowan Stone, and "vFat."
gmBlockchain's Thoughts
While the idea of a decentralized body owning property or a business may seem like a stretch, we're genuinely curious to find out how this will pan out. If you think about it, this kind of future is what FriesDAO tries to bring to people over the next generation.