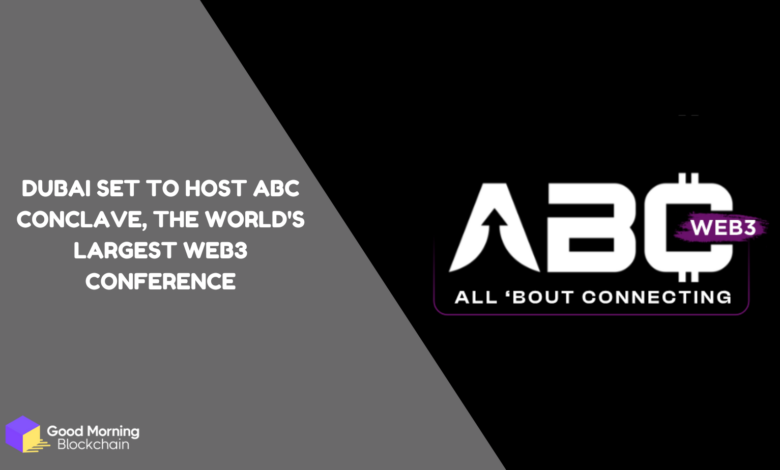 Mark your calendars for an event that's been making headlines across the globe.
The ABC Conclave 2023, billed as the "World's Largest Web3 Conclave," is set to take place in the vibrant city of Dubai at the prestigious Dubai World Trade Centre.
This conference will bring together global web3 pioneers, industry leaders, and blockchain enthusiasts for an immersive experience unlike any other.
About ABC Conclave
ABC Conclave is a global platform poised for learning, sharing, and exploration of the latest developments in decentralized technologies.
The Dubai event will feature expert speakers, interactive workshops, panel discussions, and networking opportunities.
Attendees can expect thought-provoking presentations by industry visionaries, engaging panel discussions on web3 topics, hands-on workshops, and live demonstrations of blockchain solutions.
To top it off, the conference boasts of a lineup of great speakers, including Ahmed Elmetwally (CEO and General Manager from DMCC), Carmelo Milian (Founder and CEO of Polkacity), and Alex Chehade from Binance.
Conference Highlights
As outlined on their official website, the conference will feature a number of workshops and extra activities, providing attendees with the opportunity to learn new skills and network with other professionals in the field.
Furthermore, provisions have been made for interactive experiences and other enjoyable activities. These include Gaming and e-sports tournaments, a vibrant Music Festival, and captivating Cosplay events, within the 2-day timeframe.
The conference is also expected to attract over 1,000 attendees from around the world and will provide a unique opportunity to learn about the latest trends and developments in the field.
A Global Conversation
Similarly, this event which aims to bring together the world's largest and fastest-growing crypto communities under one roof, is set to be a platform for thought-provoking discussions about the future of digital assets.
Also, with a global attendance of over 10 million people, the event has already garnered immense attention. It's an event like no other, attracting web3 founders, blockchain developers, active investors, and renowned creators.
Visit their website now to book tickets: abcconclave