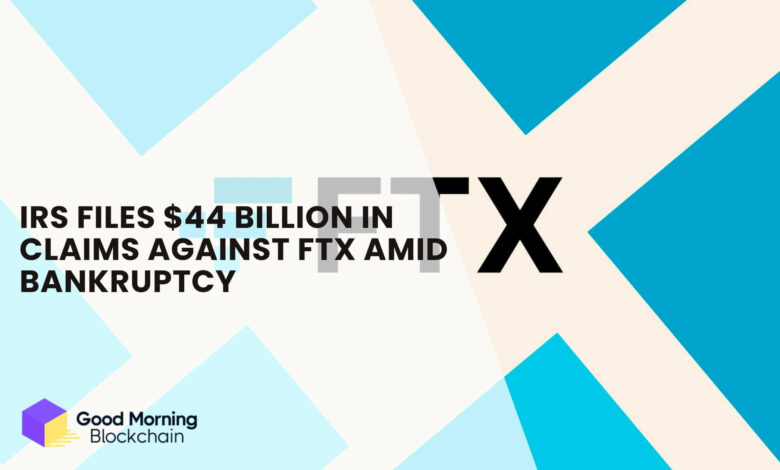 In a stunning turn of events, the US Internal Revenue Service (IRS) has unleashed a massive $44 billion in tax claims against the bankrupt cryptocurrency exchange FTX and its affiliated entities.
The IRS recently submitted 45 claims against various FTX companies for unpaid taxes, sending shockwaves through FTX's creditors who now face potential setbacks as the agency seeks priority in the bankruptcy proceedings.
The most substantial claims target FTX's sister company, Alameda Research, with a jaw-dropping $20.4 billion and $7.9 billion demanded for unpaid partnership taxes. Additionally, Alameda Research Holdings Inc. faces two claims totaling $9.5 billion.
The IRS has filed these claims under "administrative priority," granting them precedence over unsecured creditors during the bankruptcy case.
While Alameda Research was based in Hong Kong, its key executives and employees, including Sam Bankman-Fried and Caroline Ellison, hold American citizenship. The US employs a taxation-by-citizenship system, obligating citizens to pay taxes on their global income, regardless of their place of residence or time spent in the country.
When it comes to partnership entities like Alameda Research, taxes are not paid at the partnership level but passed through to individual partners, subjecting them to taxation at the individual level.
"It's a tax man's world in bankruptcy, which is why the claims are filed under an Admin Priority status," tweeted @MrPurple_DJ, a self-described restructuring expert. While claims in bankruptcy cases tend to be inflated, they often result in lower settlements.
The seemingly exorbitant figures can be attributed, in part, to multiple claims filed against each individual debtor entity (in this case, a staggering 130 entities). However, claims cannot be settled multiple times for the same underlying claim.
The FTX Saga Continues
In the latest twist of the FTX saga, Sam Bankman-Fried, the disgraced founder of the exchange, has sought to dismiss several criminal charges brought against him by federal prosecutors. Bankman-Fried's legal team argued that the charges were overly dramatic, turning civil and regulatory issues into federal crimes.
Meanwhile, efforts are underway to revive FTX, with over $7.3 billion in cash and liquid crypto assets successfully recovered. Tribe Capital, a venture firm, has expressed interest in leading a $250 million fundraising campaign to support the relaunch of the platform.
As the FTX saga unfolds, the outcome remains uncertain. The massive tax claims from the IRS further complicate the bankruptcy proceedings, while Bankman-Fried battles legal challenges in his attempt to clear his name. The revival of FTX offers a glimmer of hope, attracting potential investors who see an opportunity in its resurrection.