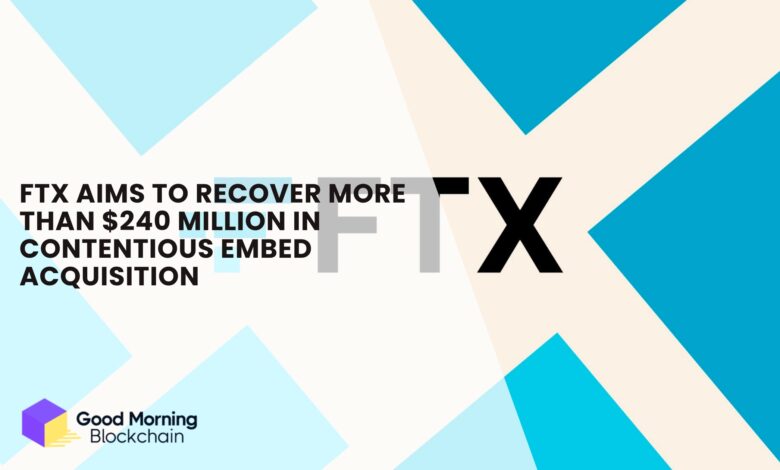 FTX, a prominent cryptocurrency exchange currently undergoing bankruptcy proceedings, has taken legal action against its former CEO, Sam Bankman-Fried, and others involved in the controversial acquisition of stock trading platform Embed. The exchange aims to reclaim over $240 million to repay its creditors and customers, according to court documents filed on May 18 in the US Bankruptcy Court in Wilmington, Delaware.
FTX alleges that inadequate due diligence was conducted by former executives before acquiring Embed for an "astronomical" sum of $240 million. The lawsuit claims that Embed's current valuation is no more than $1 million, making the acquisition an excessive overpayment. Simultaneously, another lawsuit has been filed targeting Embed CEO Michael Giles and its shareholders, accusing FTX of lavishing an eye-popping $220 million on the stock-trading platform, a price that is deemed wildly inflated.
Court filings reveal that Laurence Beal, Embed's chief technology officer, expressed astonishment at the price paid by FTX, considering the lack of substantial due diligence conducted by FTX executives. In a correspondence with a senior colleague at Embed, Beal described FTX's evaluation process with a cowboy emoji, implying a reckless and haphazard approach to making financial decisions.
As part of the acquisition, FTX generously granted $70 million in retention bonuses to Embed employees. Shockingly, the lion's share of $55 million went to CEO Michael Giles, who later found himself struggling to justify the staggering sum to his fellow colleagues. The compensation package for Giles is also raising eyebrows. Between the signing of the acquisition agreement in June 2022 and the deal's closure in September 2022, Giles received a jaw-dropping daily payment of $490,000, assuming he worked every day of the week. Furthermore, upon the finalization of the acquisition, Giles walked away with an additional windfall of $103 million, owing to his significant stake as Embed's largest shareholder. These exorbitant figures starkly contrast with Giles' regular monthly salary of $12,500 as Embed's CEO.
FTX is now fiercely determined to claw back a massive sum of $236.8 million from Giles, Embed executives, and an additional $6.9 million from the smaller shareholders of Embed, citing the disproportionate payouts made to insiders. FTX's lawyers have accused insiders of exploiting the exchange's lack of controls and recordkeeping, alleging massive fraud in misusing funds to facilitate the Embed acquisition. These individuals were purportedly fully aware of FTX's insolvency when the deal was finalized.
FTX filed for Chapter 11 bankruptcy protection on November 11, 2022. Under new leadership led by bankruptcy attorney John Ray III, the focus has been on reclaiming funds to repay the exchange's customers and creditors. Recent developments indicate that FTX's legal team is considering relaunching the exchange in the future, depending on the outcomes of the ongoing legal battles.
Apart from the legal challenges, FTX faces additional accusations from the US Department of Treasury and the Internal Revenue Service (IRS). These agencies claim that FTX and its bankrupt subsidiaries owe approximately $44 billion in unpaid partnership and payroll taxes to the government. These allegations further complicate FTX's financial situation.
Founder Sam Bankman-Fried has filed court documents seeking the dismissal of ten out of thirteen charges brought against him, including wire fraud, conspiracy to commit bank fraud, bribery, and campaign finance-related charges. Bankman-Fried maintains his innocence and is currently free on bail, awaiting trial scheduled for October.
FTX's future remains uncertain as the legal battles unfold. However, the exchange is determined to recover funds and address the allegations surrounding the Embed acquisition. The outcomes of these proceedings will significantly impact FTX's future and its potential for recovery in the cryptocurrency market.